Bemm River plays host to a wide range of accommodation houses that cater to your every need. Below we have listed each premise with their contact numbers and email addresses where applicable. You can link to their web page, where they have one.
Bemm River Bungalows
phone 03 5158 4225,  
Hosts: Gordon Fields and Annie Duiveman

email: bemm@net-tech.com.au
Bemm River Caravan Park
phone 03 5158 4216  b Mobile 0428 557438
Proprietors: Greg and Mandy Forrester

email: bemmrivercaravanpark@gmail.com
Web: www.bemmrivercaravanpark.com.au
Bemm River Holiday Flats
phone 03 5158 4251 or 5158 4254,  
Hosts: Jane and Mark Cunningham

email: brbaitandtackle@bigpond.com
Web: www.fishbemm.com.au
Facebook:  www.facebook.com/pages/Bemm-River-Bait-Tackle/513939625324197
Bemm River Hotel
Opposite Luderick Point Memorial Park, with great views of the lake, sits our hotel. Built in 2002 after the original hotel burnt down in 1994, the Bemm River Hotel offers mouth watering meals and icy cold beer. Your hosts, Debby and Ray Bowen will make you very welcome and always make time for a friendly chat over a drink. Apart from the bistro (counter meals daily) the hotel offers two pool tables, satellite TV and a jukebox with big screen to view the latest music videos. So when in Bemm for the day or an extended visit make sure you drop into the Bemm River Hotel and stay awhile - you are always welcome!! (Accommodation also available) Check out their website at www.bemmriverhotel.com.au.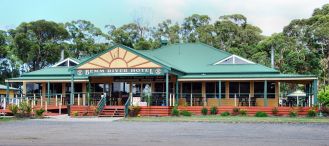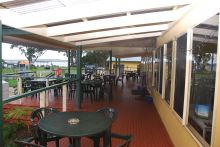 phone: 03 5158 4241
email: info@bemmriverhotel.com.au
Cosy Nook Flats
Ph: 03 5158 4231    Mobile:0488672260
 Hosts: Chris and Rob Foster

 Email: cosynookflats@activ8.net.au
Email: bemmcosyaccom@gmail.com
Bemm River Holiday Accommodation
Ph: 03 5158 4233
Hosts: Robyn and David Sturgess

 Email: bemmaccomm@bigpond.com
Web: www.bemmaccommodation.com.au
Roses Holiday Flats
Ph: 03 5158 4254.
Hosts: Mark and Jane Cunningham

Web:http://members.datafast.net.au/~bemmcommunity/Roses.htm